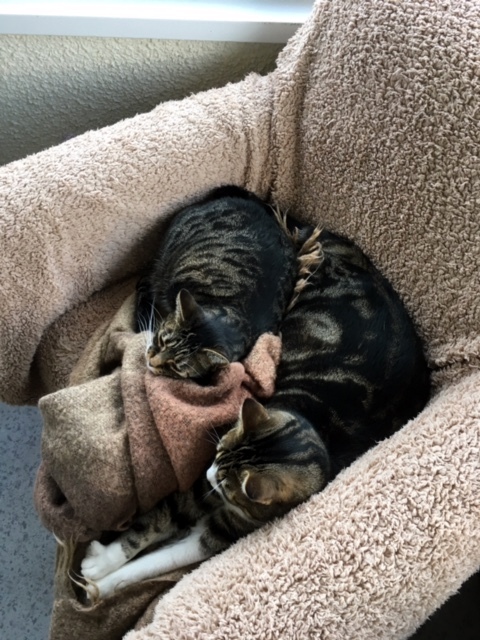 Amelie – Mother, 6 years old
Lily – Daughter, 5 years old
December 2017 Update
Amelia and Lily finally found a great home. They are with one lovely woman who has a quiet lifestyle that suits them very well. They are really blossoming with her!
Where they came from…
 Amelie lived on the streets for a good part of her first year of life. She had a litter of 4 and moved them around a neighbourhood in Esquimalt to keep them safe for a few weeks when finally a human found them in her garage and made a call to have them rescued. Amelie and the kittens were cared for by Linda and her team at Helping Homeless Cats. The kittens were separated from their mom in order to help them to become more adoptable (as they had varying degrees of a feral nature).
 Amelie and one of her children, Lily, were reunited after about 6 months of being apart and they bonded immediately.
Their natures…
 Amelie is a very shy and a little skittish. She likes to observe and get to know you and will likely never approach you. This doesn't mean, however, that she doesn't crave cuddles. When she is in her comfortable place on her scratch board and you approach her with her comb she becomes very open to your loving touch and petting. She actually really likes to have her ears gently pulled! Last year Amelie ended up with a serious dental issue and all of her teeth had to be removed. She now has the freshest breath and is very happy – and she still is able to eat her favourite dry food! She is very playful, especially at night when the humans have gone to sleep – we know this because we find her favourite mouse toy in the most unusual places each morning.
 Lily is very shy and will hide from view initially … but once she warms up to her human friends she is incredibly loveable and craves cuddles - she becomes completely submissive and like jelly in your hands. She will approach you and jump up on the bed or the sofa to keep you warm and happy with her purring. We think she should have been called Scout because she always likes to be the first to see what's going on. She loves playing with ping pong balls, and the laser light!
 It's best to ignore them initially until they've had time to listen to your voices and smell your scent… And when their human friends are seated either at the table, or perhaps watching TV, they will emerge from their hiding places and come to check you out – tentatively at first and then with more and more confidence.
 The girls have never shown any aggressive tendencies towards each other or humans. They are very loving towards each other (with the occasional family spat!)
Special Care…
 They very rarely eat treats and need to stick to their special diet from the vet. They live indoors and are comfortable there – never seeking to escape into the outdoors. They like to watch the birds and smell the fresh air through the screened window.