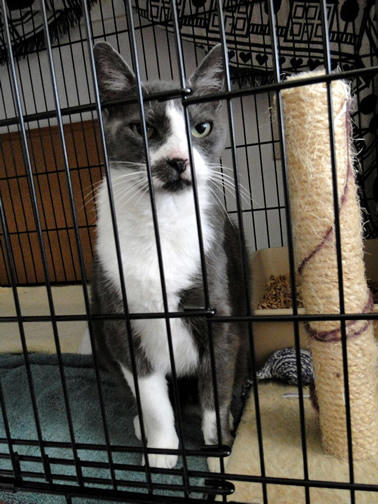 About Mr. Mittens
SEE UPDATES BELOW
Hi folks,

I was called Mr. Mittens by the family feeding me after I became homeless a couple of years ago. Before that my meals were from garbage cans and it was very humiliating to have to find food that way – and I must say "food" is hardly the definition of the stuff I was finding that was even somewhat edible. Anyway, those days are behind me and I've been assured I will never be homeless again.
I am around 6 and strikingly handsome, if I do say so myself. My face has great character and I am big and strong and muscular. I'm wearing what they call a "grey tuxedo" and my fur is becoming velvety after a couple of years of being more in the "old theater carpet" category… I am neutered, had a vet exam, and was dewormed and flea treated on intake at the rescue. I am now the new kid at the orphanage.
I was surviving okay but felt miserable a lot of the time because I had SO many flea bites and an allergic reaction to them AND I had an ulcer in my mouth. I received shots for both of these conditions and I healed very quickly. Oh, yes, I am FIV negative too!
I am very, very affectionate and demand petting and lots of attention. However, I get so very excited that I haven't been able to stop myself from sometimes biting. Do you understand a cat like me and know how to communicate with me? I would like to improve my behavior so I can get a good home with a good person and I don't really mean to hurt anyone!
Because I come across as dominant, I am not yet out of my pen and in with the other guys. I don't like being in "jail", yet I'm not to sure I want to intermingle with those other cats here. That is why it is very important for me to get a foster home of my own and, ideally, a permanent home of my own. I might need to be an only cat – but I have enough love that I'm all you will ever need.
I need an indoors home where I will now be safe and warm and need not be "on guard" anymore. It was stressful being outside and fending off dangers on a daily basis. I am probably lucky to be alive! Can you help me??
June 2018 update
Mr. Mittens continues to have a stable and secure life in his foster home with people who love him. He still loves to put his head on people's feet. He is stable on his thyroid medication and still takes Prednisone every few days for his skin condition. We had a scare last year when he ingested a bit of dried flowers from a bouquet, but he recovered quickly. "Mitty" is a great kitty. He is with adults who are not seniors but was placed in our program because over a long time no one chose him for adoption. We found this amazing foster home where he has thrived. Now that he is hyperthyroid and needs pill this is considered a "high needs long term foster home" where Mitty can trust that no changes are ahead in the near future. His family is now able to donate towards his food and meds which is very helpful.
2017 update
Mr. Mittens is now on medication for hyperthyroidism. He is stable and still enjoying his permanent foster home very much.
2016 update
Mr. Mittens is doing great. He is on a reduced dose of the medication for his skin condition.
2015 update
Mr. Mittens continues to do well and is losing weight which is good.
2014 Update
Mr. Mittens has a great Long Term Foster Home. He is on medication for a skin condition. In this case he is not with a senior but due to his not finding an adoptive home over a long period and needing medication he is in a high-needs adult home. Three roommates give him a lot of attention. His favorite thing is to put his head on people's feet!
Update March 2013
Mr. Mittens desperately needs a quiet 100% indoors home. He gets along with NONdominant cats. He is very affectionate but not good with children as he can get revved up with play. He is a very sweet kitty!