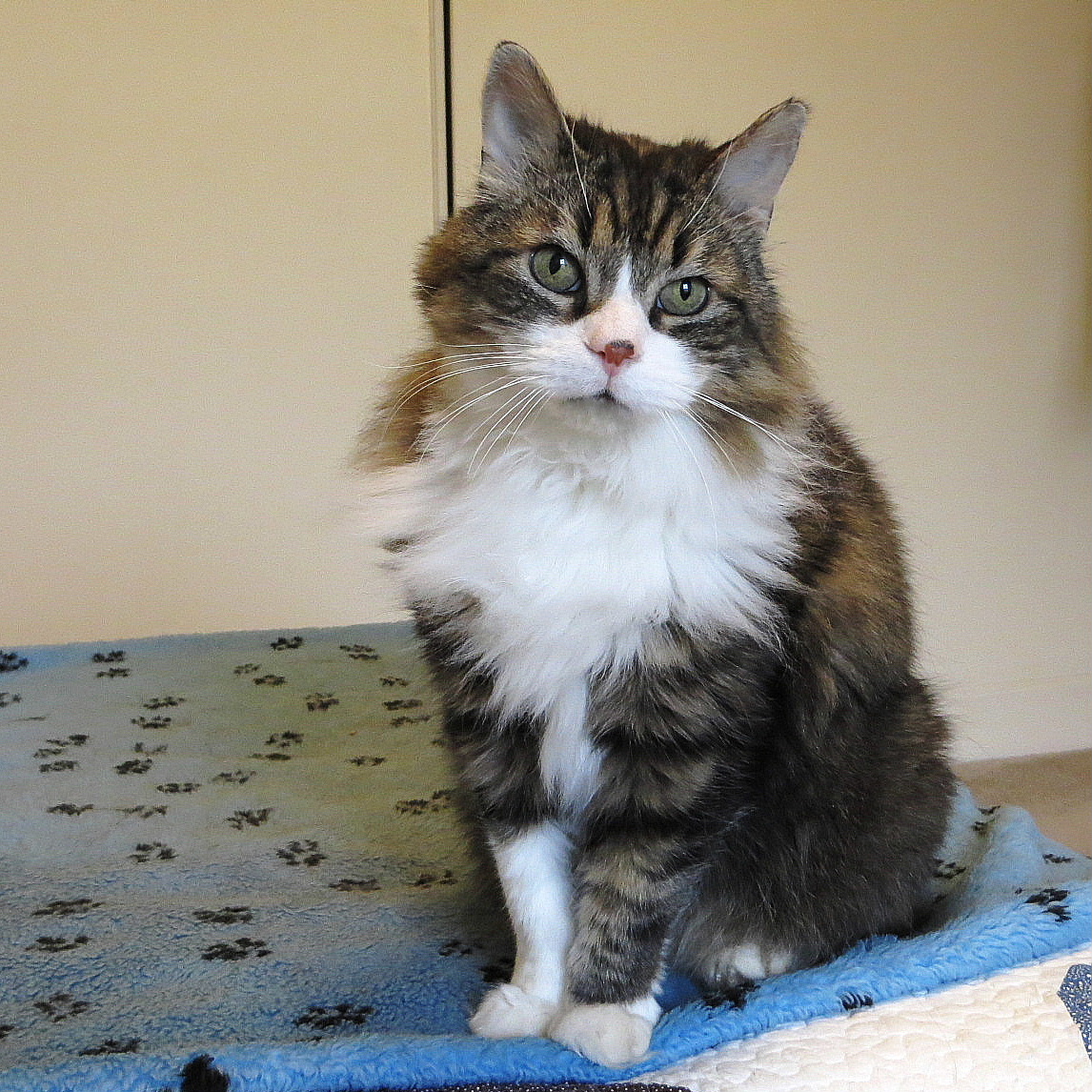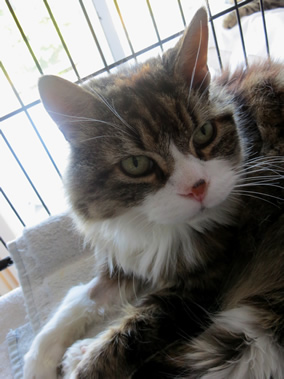 About Skipper aka Biggles
SEE UPDATE BELOW BIO
Hi, I'm Skipper. I am glad to be at the rescue and love being indoors where it is cozy and safe since the outdoors does have many dangers. I developed a very bad ear condition that got worse and worse. I now have a large mass in my left ear that is painful, infected, and very messy. I try to keep my ear clean by washing it often but it is very difficult.
I came to the rescue and they immediately took me to the vet. I had a full exam, blood tests, FIV test (negative), flea treatment, and deworming. I had an antibiotic shot for the infection in my ear. Next week I will be sedated so they can look into the ear and maybe the mass will be removed.
I don't like talking about myself, but I have heard people around me saying that I am a very sweet guy. They refer to me as a 10-year-old neutered male. I really like all people. I have a gentle personality and I am very good-natured. However, this painful ear can make me a bit testy if someone touches that ear.
Right now Helping Homeless Cat is seeking donations for my surgery. Please see our donation section to donate by Internet or by cheque.
After my ear is repaired and I have recovered I will be looking for a home. I think a Long Term Senior Foster Home would be a dream come true for me. However, I could also be adopted by a person or family who would be able to handle any future vet bills since I am a senior. Even though my health is good (other than my major ear problem), in the coming years I will reach an age when most of us require some vet care. I'm not sure yet what future care my ear may require.
I am napping a lot now. Having this kind of infection is making me tired. The rescue is posting updates about me on Facebook. I wish I didn't have this condition and I'm sorry to have to ask for help, but sometimes in life we all need to do that... Thank you, everyone for listening.
Update on Biggles June 2018
Biggles has now enjoyed well over a year with his new foster mom and they are immensely happy together! He is a very calm guy and likes to nap a lot. We think he is now around 16. He is on kidney and thyroid medication and takes these easily in his food. We have a visit from him now and then when his foster mom, who is in her 90's, goes to visit family for a few days. Biggles is a beautiful and sweet kitty, looking younger than his years. His foster mom is able to donate towards his care which is very helpful.
July 2017 update
Biggles is welcoming visitors to his senior foster home – family members who are coming temporarily due to the fires in their home areas. Biggles is getting even more attention than usual! He is feeling so well now that he is acting like a kitten – although we know he is an older senior. We are so happy for him. We hope his mom's family can soon hear good news from their home and return.
May 2017 update
Sadly, Biggles' senior foster mom passed away. Earlier this year he was temporarily with another senior foster mom and when the news came that he could not go back to his earlier home his new foster mom had fallen in love with him and kept him. He is having a wonderful time with her. He is so congenial! He loves everyone. He enjoys the many visits from her family too.
2016 update
Biggles' ear situation worsened and he had major surgery in his other ear, the same as he had before. His ear problems are now over! He had another great year with his mom and has a great life.
2015 update
"Biggles" has had more vet care for his ear conditions but has no other health issues. He has been enjoying the constant attention of his senior foster mom and sits in her lap and sometimes nudges her out and takes over the chair! He is a sweetheart and she enjoys his company very much.
2014 update
Skipper has been renamed Biggles! He has a fabulous senior foster home with a lovely woman from England. He is her constant companion and takes walks down the hallway with her. He now has the wonderful like he deserves where he is treated like a king!
October 2013 update
Skipper is now renamed Biggles and is in a fabulous Senior Foster Home. He is settling in nicely and very comfortable. He loves people and this is an ideal home for our special boy! He will continue to be checked at his vet so that the condition of his ears can be kept under control.
August 2013 update
Skipper has had two ear surgeries and is doing MUCH better! He is recovering nicely. He will require follow-up vet visits and perhaps more procedures in the future if the mass grows back. We would love to place Skipper in a long-term loving senior foster home where we can monitor him and provide any needed vet care in the future. He is very affectionate and cuddly but does not like other cats. He needs to be indoors-only.