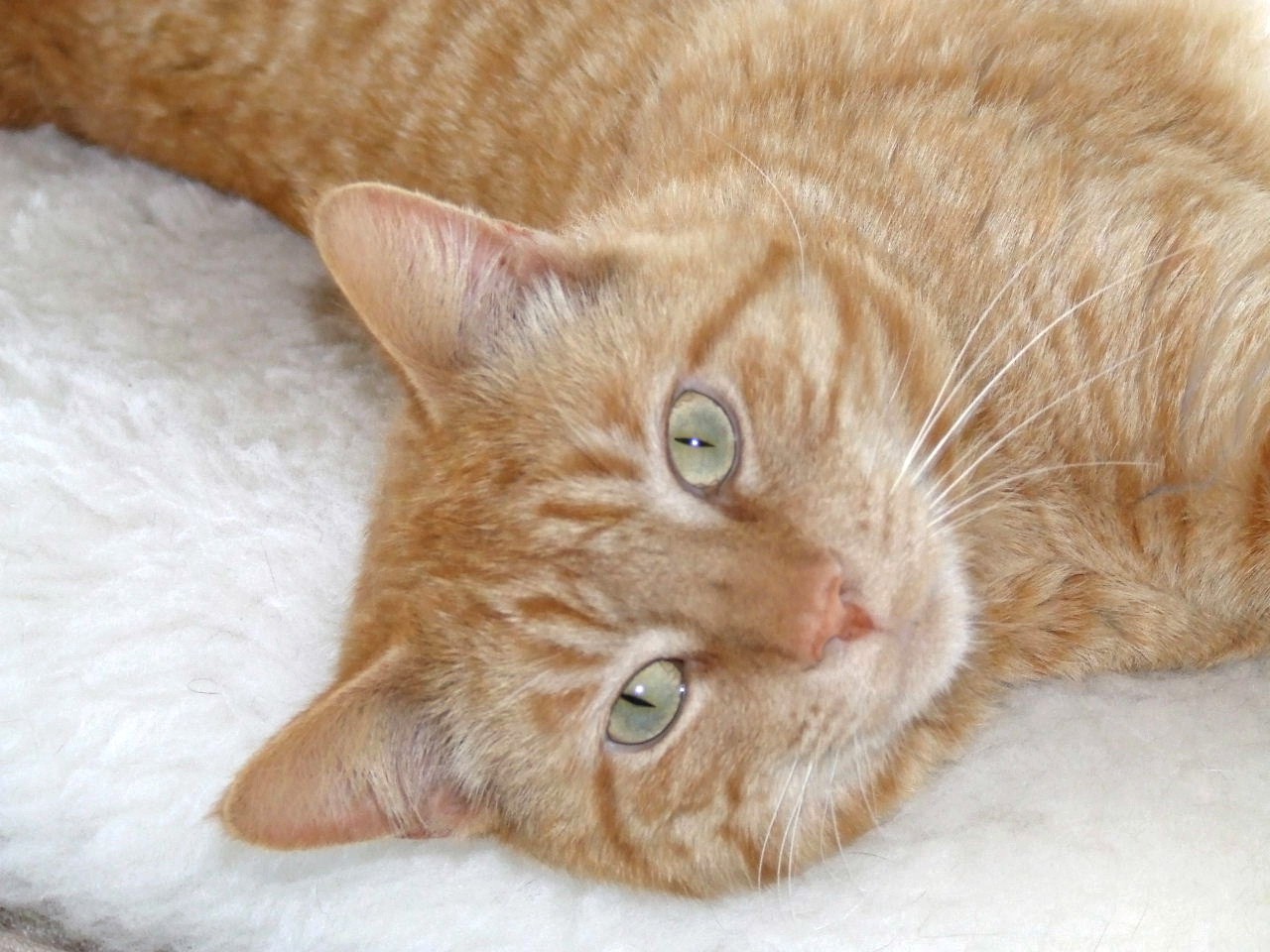 In Memory of Tremain
July 2017
 It is with great sadness that we tell you that Tremain had a malignant tumour which was inoperable.  Tremain, a senior around 14 or 15, had been a lovable, feisty, and truly unique cat all his life and his foster mom was with him today when he went to sleep and passed away quietly.  We brought him from CCAR when we left to start our new rescue in 2009.  He had a fun foster home with a dog, then two more homes from which he was returned, and then found his true love foster mom who provided his dream-come-true forever home.  They had a strong bond and a wonderful life together. Tremain mellowed out in this relationship and even joined her for "Quilting NIght" in her apartment building where he let the others pet him.  He had many cute personality traits.  He was affectionate but could strike out if overstimulated and this had decreased with age (except when he had to go to the vet!).  His tumour came on suddenly and escalated quickly so he had only a short bad time and had a pain patch.  Luckily we got the results today so he did not have to suffer.  We only make this excruciating decision when a cat has a condition that cannot be cured and he would suffer.  In this case, we did not even have a bit more time to provide.  He had a wonderful retirement the last several years and now his mom feels he is at the Rainbow Bridge.
About Tremain
Tremain was only hours away from being put down when we got a call from the vet who thought we might want to take him under our wing. We did indeed! He was another nice fellow who went absolutely crazy when trapped and caged and gave the appearance of being wild and un-adoptable. Once presented with a comfy sofa he was a tame kitty!
Tremain is a lovely orange boy who is quite congenial. He gets along well with other cats and dogs and seems to enjoy the indoor life. He is friendly and affectionate without being mushy or dependent. Once Tremain trusts someone, he does enjoy sitting in their lap. He loves a nice pat on the head and scratch under the ears.
A nice big fuzzy bed in a sunny window is Tremain's favorite hangout. He naps awhile and then watches the yard and street. He loves his food and is easy to please. Tremain is probably best around adults and not small children, as he can get very frisky at play time!
Tremain would do well in an apartment where the person went to work every day as he is easily able to accept long hours of quality alone time in a nice sunny window. He would be happy to greet you at the door in the evening and spend the night being your companion. He would also, of course, be fine with someone who is home all day and would probably follow them from room to room. He's a great cat and we hope he has a great life ahead.
Tremain is currently in a foster home with a dog and doing just fine, but needs a permanent home of his own.
Update June 2012
Tremain is now in a permanent home in our Senior Foster Program. He is doing really well and loves his "mom". He is affectionate, follows her everywhere, and is being a good boy (learning not to bite!). It took four years but Tremain has found his perfect match for a permanent home!
Update May 2012
Tremain now has a permanent senior foster home where he adores his "mom". They have a great relationship and his long years of waiting for the right home are now over. His mom loves him very much and understands him. It was a perfect match worth waiting for!
Update February 2012
Tremain is now alone in his room which he greatly prefers. He is very affectionate and sweet when there are no other cats around him. He likes a lot of cuddling, including a desire for intense "kneading", and then likes to take a nap on a person he knows well. However, at some point he goes off on his own and entertains himself with his toys. Tremain would do well in a quiet home with one person who is at work five days a week.
Update May 2011
Tremain is relaxing here and getting along fairly well with everyone. He still enjoys his alone time more than sharing with other cats. Sienna (in the Cats in Care section) does like go to in his room which he allows a bit begrudgingly. He likes petting but is not as demanding as in the past.
Update April 2011
Tremain is back with us and awaiting a foster or permanent home. He can be a bit feisty, especially around other cats or if over stimulated. He could be happy with a single person or couple and is very affectionate but can be demanding and wants attention frequently when the people are home. He is a special boy who needs a special home. He has had many homes and we hope he can find one where he can stay forever.